Hi folks,
I have a problem after updating to pimatic 0.9 (clean install). I used pimatic 0.7 before and it worked like a charm.
Unfortunatelly the webinterface (mobile-frontend 0.9.11) is very slow to respond and every switching action is delayed.
I guess somebody might know immediately what the problem is, but i couldn't find any solution so far in the forum nor anywhere else.
The problem:
If I reconnect to webgui (no matter if phone or pc, no matter if LAN, WLAN or WAN) or if i reload the page in chrome nothing happens for up to 15 seconds. Just the old values are displayed. I can not switch anything in this time. After 15 seconds all values are updated and keep updating like normal.
But whenever I turn a switch on or off it takes 5 seconds for the light to react. I did not experience any of this with the old pimatic version 0.7.
I attached a screenshot of the chrome loading process (after hitting F5) which shows socket.io to be not responding for quite a while.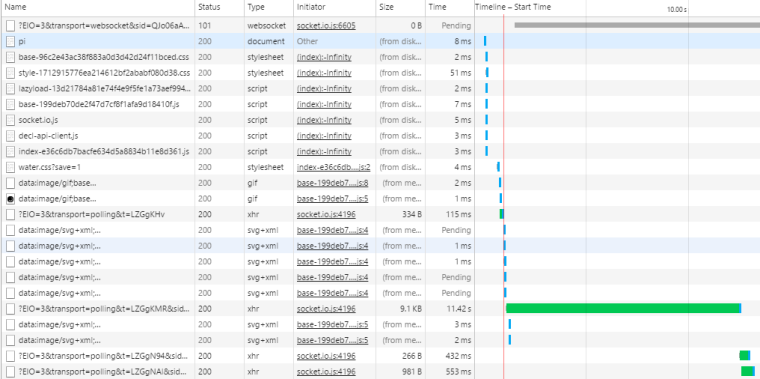 It would be great if somebody could give me a hint where to look for the problem…
Cheers
hofaa